How Far Would You Go To Uncover The Truth?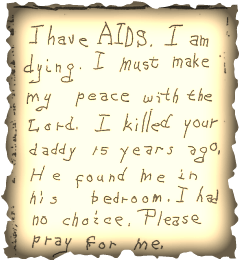 "The Most Bizarre Unsolved Murder Mystery in Tampa Bay History." That's how news reporters describe the true story surrounding the 1977 death of Dunedin Florida business and family man, Robert John Dirscherl Sr. Police called it suicide, but the facts and physical evidence indicated otherwise. Sixteen years after the mysterious death, an anonymous deathbed confession letter arrives in a family member's mailbox, and their amazing quest to uncover the truth is set in motion.

Eighteen years after that fatal shot shattered the morning air and a family's essence, an even more amazing revelation rocks their world when the dead man's sister-in-law experiences an unexplainable encounter with a stranger on an Amtrak train. The new acquaintance provides facts and information about the death that amaze family, friends and investigators, and which lead to an overwhelming explanation that God has been involved in the bizarre experience from the beginning.

Twenty years after Dirscherl's death, television producers air the incredible story on NBC's Unsolved Mysteries hoping to generate new leads. The family's search for the truth traverses four decades, a gamut of emotions, and realms of reality they'd heard mentioned, but never believed were real. Fast forward to 2010, thirty-three years after the deadly shot rang out: Prayers are answered when forensic investigators determine the factual evidence actually supports the anonymous killer's pleading confession.

My name is Dan Dirscherl; I'm the youngest son of Robert Dirscherl Sr. I personally experienced this strange ride, and since the arrival of the anonymous confession letter, have spent the last twenty-one years searching for the truth. This story recounts my first-person experience of the baffling, life changing journey; a journey that challenged the experts beliefs, tested a family's resolve, and touched the lives of countless innocent bystanders. This emotional roller coaster ride meanders through bizarre encounters and unexplainable phenomena, ultimately sharing what might just be one of the most fantastic and touching true stories you'll ever read. While it may cause the quick chill or unexpected tear, it definitely leaves you with the sense there is a Higher Power involved in our lives, and that truth and justice are worth fighting for.


---



For those interested in reading more, the book's Preface and part of Chapter One are provided below.

~~~~~~~~~~~~~~~~~~~~~~~~~~~~~~~~~~~~~~~~~~~~



1997 Tampa Bay News Footage
~~~~~~~~~~~~~~~~~~~~~~~~~~~~~~~~~~~~~~~~~~~~~~~~


"The pursuit of justice without vengeance is a noble cause.
The quest for revenge through the guise of justice is a lie
…know your heart."
DDD
~~~~~~~~~~~~~~~~~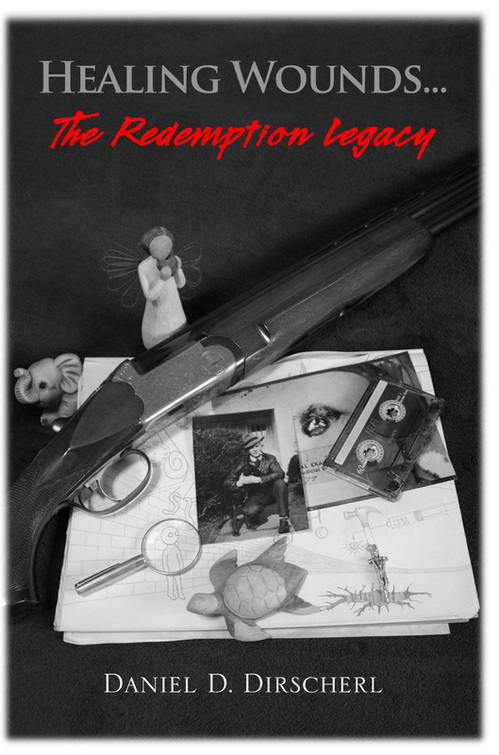 ~~~ Healing Wounds...The Redemption Legacy ~~~

PREFACE

The following is an astonishing tale, a true story, and a plea for help all rolled into one. It's an unbelievable story that meanders through time and lives, and causes most who hear it to shake their heads in disbelief. It's the chronicle of the untimely and mysterious death of my father, Robert John Dirscherl Sr. which took place in Dunedin, Florida in 1977; and my family's thirty-five year quest for answers and justice.

Although news reporters have labeled Dad's death "The Most Bizarre Unsolved Murder Mystery in Tampa Bay History"; those who hear it realize it's much more. It's a story that has come to a halt several times, yet for some reason won't go away. It seems the truth doesn't die easily…it smolders, sparks, and reignites, coaxing those diligently searching to eventually find it.

My family's challenges investigating and explaining the mysteries surrounding our father's death have plodded on now through four decades. Our search has been daunting, and has led us into realms of existence we had never before experienced, or even believed might be real. Our journey has taken its toll on friends, families, and the inherent quest for the truth. At times it seems the simple option would be to give in to the frustration, end our mission, and surrender to the lie. I think as you read on, you'll understand why that can't happen, and why I wrote this book.

I suppose this story is technically a nonfiction murder mystery, but that label doesn't do it justice. Family, friends, and a quest for truth and justice encouraged me to share our story, and I decided to put it on paper for several reasons: First, I want to tell my family's story through the eyes of one who has personally experienced some of the unexplainable events and occurrences. Many people have heard parts of the story, but I wanted to get all the information together and share the entire account as I know it before my head exploded. I wanted to relay the facts through a first-person lens, so people could experience my family's perplexing journey, and our personal struggles to uncover and expose the truth.

A second goal is to share this story hoping the right person might read it and be able to help us conclude our decades-long quest. In 1997 and 2008, our story aired on the television show Unsolved Mysteries. Although that national publicity opened fresh leads and helped uncover new facts; law enforcement authorities, forensic pathologists, state's attorneys and medical examiners have not been able to (or perhaps not been willing to) close this case in an explainable and credible manner. Perhaps you or someone you know can help.

Finally, and most importantly, I wrote this book to glorify God. I realize this statement may cause a percentage of readers skimming this preface to shut the book, never to open it up again. Some people don't believe there is a God. Others may associate God with religion, and that's a topic that can raise some haunches, cause even the most spiritually confident to question life-long view points or sacred beliefs, and initiate arguments most would rather not be involved in. This isn't meant to be a book about religion, but it is a book that discusses beliefs in general; how they converge, how they diverge, and how they significantly impact each of our lives.

While investigating my father's death, I realized over the years how strongly personal beliefs shaped, and are still shaping the outcome of this case. I also realized how beliefs help shape everything else about us. In my humble opinion, beliefs are one of the most powerful forces in the universe. They affect every culture, every human being, and potentially every decision ever made. In essence, beliefs shape our lives and realities while time and actions generate our life's history.

As I tell this tale through my eyes, I share some of my personal beliefs. Though some of these beliefs may differ from yours, it is not my goal to impose them upon you, or to argue my beliefs are more truthful and accurate than yours. I simply share them because they play a major role in this story, and help explain how this amazing experience touched and shaped the lives of many.

Although my father's death significantly impacted my life, I have four siblings and extended family whose lives were also altered forever. While I planned to tell "our story", I soon realized that trying to share the critical case details and all my siblings' emotions, experiences, and points of view through my eyes would have probably resulted in a monstrous chronicle that encompassed way too much, and said less. As I share personal and significant events from my life, I don't mean to diminish my family's roles or pain, or detract from my father's legacy.

I also want it known that the intent of this book is not to ridicule or embarrass those you read about. It is intended to share some specific truths without the quest for revenge or humiliation. Unfortunately, at times the painful truth cannot always be avoided.

While I'm not a previously published author, famous philosopher, nor do I have a doctorate in anything, I hope I'm able to convey an understanding of how important beliefs are; my beliefs, your beliefs, the expert's beliefs, and human beliefs in general. You're about to read a story that may touch your heart, ignite a few deep emotions, and perhaps help you understand the truth a little more clearly; at least the truth concerning this mystery and our experience discovering it.

This story is about uncovering the truth surrounding my father's death, and the struggle to clear the name of one Robert John Dirscherl Sr. To some he was a father, uncle, grandpa and friend. To one he was a loving husband. But in the flash of a moment, and to one other individual, he became a murder victim. In that moment, justice, righteousness and life went haywire. Fortunately the truth still remains; hidden for a time, but now unfolding. The following pages are my attempt to explain our bizarre search for that occasionally elusive entity…the truth.

Please make yourself comfortable, strap yourself in, and keep your arms and legs inside the ride at all times…things may get a little bumpy.

~~~~~~~~~~~~~~~~~~~~


Chapter 1

The Unthinkable


The date was March 13th 1977; it was a cool spring morning in Florida and it was beautiful. Our house sat on a corner lot at 1111 East Lotus Drive in a middle class neighborhood in the small town of Dunedin; a quiet, scenic hamlet whose western boundary hugged sugar-white beaches, and whose eastern border stretched towards Tampa Bay. Dunedin offered residents and visitors a close-knit community, endless opportunity, and the proverbial "Good-Life" surrounded by semi-tropical playground.

It was a crisp, breezy Sunday morning, which meant this fourteen-year-old boy would be up fairly early and off to church with Mom and Dad. While perhaps a pious ritual, realistically it meant I'd be off to Mass to squirm in the pew for the traditional inattentive hour, where a congregational response or liturgical reading would occasionally interrupt my daydreaming of the day's escapades. Then it was back home to execute the daily adventures. That's how my Sunday was supposed to go. Unbeknownst to me, my plans were not what fate had in mind. It seems fate, or life, or destiny had other plans for this fourteen-year-old still slumbering in a warm bed.

As usual, Mom and Dad were up early, drinking their coffee, planning the day, and getting ready for church. Dad had been to the post office to pick up mail and then dawdled around the house in his usual way, searching for small projects he could complete, or minor repairs he could mend before the traveling salesman hit the road the next day. He spent some time out back chatting with a neighbor and skimming love-bugs out of the swimming pool as he burned time before church.

We, like many Catholic families in the area were members of Our Lady of Lourdes (OLL) church in Dunedin; had been since the late 1950s. And this Sunday Dad was the service Lector during the nine-o'clock Mass. He was actually scheduled to lector at the five-o'clock evening Mass the previous night, but accidentally put contact lens cleaning fluid in his eyes instead of eye drops, so he had to switch services.

Mom helped him with the pronunciation of a word or two that he would use during his readings. They shared their coffee and Sunday paper and discussed after-church plans and details surrounding Mom's bowling tournament which kicked off shortly after church ended. Dad prodded Mom that perhaps they should wake me so I could start getting ready for church. He asked her if there was any iodine or medicine he could use to treat his itching athlete's foot. Mom reminded him there was some Doctor Scholl's foot spray in the cabinet, so Dad headed to the master bathroom off their bedroom while Mom took the Sunday crossword puzzle and headed to the bathroom off the kitchen. Little did they know this nonchalant dialogue would be their last words to each other. Minutes later Dad would be found lying dead on the bedroom floor with a close-range shotgun blast to the chest.

I was still asleep in my bedroom at the other end of the house. Although the shotgun round's detonation produced a concussing blast, I didn't even hear the shot. A few minutes later Mom's scream woke me in an instant and I left my bed in a flash, sprinting through the house directly to my parent's bedroom; almost as if I were being lead, feet barely touching the floor. I didn't yet know why she screamed, but it was blood-curdling, and I knew immediately down in my gut something horrible had happened. I reached the doorway in a full sprint, turned and attempted to stop my momentum...


~~~~~~~~~~~~~~~~~~~~~~~~~~~~~~~~~~~~~~~~~~~~~~~~~~~~~


To purchase the E-book for Kindles, Nooks, or iPads, search for the title on barnesandnoble.com, amazon.com or the iBookstore.
To purchase the printed book OR ebook, search for the title on amazon.com, or just click the button below.
A portion of any profits generated by book sales will be donated to Parents of Murdered Children Inc. (POMC), and K-LOVE radio.